Thanks for spotting that review!

I signed up for email alerts on that review and the comments, curious to see where that leads.
concerneduser
---
Where do u sign up or subscribe for alerts?
Tks
Posts: 225
Joined: Tue Jan 08, 2013 11:22 pm
---
dannyo wrote:Where do u sign up or subscribe for alerts?
Tks
There was a link labelled "Click to receive email alerts" or something to that effect.
Here's a screenshot, where it says "You are tracking comments by e-mail", you can sign up/subscribe
Right-click, open image in new tab to view the entire image
concerneduser
---
Opps....thought you were talking about this forum! Thanks anyway !!
Have u heard from Foscam.com about this issue ?
Posts: 225
Joined: Tue Jan 08, 2013 11:22 pm
---
Here are some logs from my firewall, blocking this traffic is difficult if not impossible for consumer level hardware. Foscams response to "just block it" is unreasonable, at best.
This traffic is a result of a feature ("P2P") that should be disabled (per my request, when I disabled it in the Cameras settings), remaining enabled and the camera subsequently phoning home to multiple unknown international servers on multiple ports, multiple times per minute. Just lovely.
Right-click open image in new tab to view
concerneduser
---
Hi Jim
Pleased find the attached patch to disable the P2P UDP messages.
Please upgrade your camera to the latest firmware version 2.x.2.18 firstly and then install the patch.
Any problem, please feel free to contact me.
~~~~~~~~~~~~~~~~~~~~~~~~~~~~~~~
Your satisfaction is our goal.
Are you satisfied with our service?
Our aim is to provide perfect service,so your suggestions are appreciated.
If you are not satisfied, please e-mail
aftersales@foscam.com
with your assessment or feedback.
Best Regards
David Qu (Mr.)
Customer Service Dep.
Email:
tech2@foscam.com
Tel:+86 0755-26745668,ext.8706
Mobile:+86 18565808432
ShenZhen Foscam Intelligent Technology co., Ltd.
Website:www.foscam.com
This is good news; however when I upgraded it asked me to use a better secure password and so I did and then when I tried to log back using the new password it would not accept it. I tried it several times and even used the old password and others with no luck. I powered the camera ( F19831P V2) down and up and it still won't work. I went to the IP Tool and used the Network Configuration login and it would not accept it.
David, can you give me an idea what has happened since I changed my password to a more secure one after upgrading to the firmware you gave me to fix the UDP message problem. I did not get a chance to install the patch since I could not login to the camera. I have two more cameras to upgrade and I will wait to hear from you about this password problem.
Jim
David,
When upgrading to 2.x.2.18 firmware it did ask for a more secure password than what I was using and then would not allow me to login; however, to prevent this problem I changed all my cameras to a more secure password using Uppercase, letters and numbers (before upgrading) and this resolved the problem for me. I would suggest everyone do a backup before and after adding the firmware and patch.
The upgrade to 2.x.2.18 and adding the patch fixed the problem with the unnecessary UDP messages I was concerned with. Thanks again for your support on forwarding this concern of the unnecessary UDP messaging to the R&D Team. I will now feel better about purchasing and recommending the Foscam cameras.
Jim
Show original message
This is the latest feedback from Foscam Tech Support I have received since posting my concern about my cameras sending out UDP messages and my reply:
On Jan 26, 2016, at 10:10 PM, "Foscam Technical Support" <tech2@foscam.com> wrote:
Hi Jim
Including the P2P feature, there are other features need communicate with other servers.
Such as DDNS feature, it will send a network heartbeat data to the DDNS server so that the DDNS can be sychronous with the update WAN IP.
The alarm email feature, it will send the request to the email server to send alarm emails.
Also the FTP features, it will communicate with the FTP server.
Finally if enable the feature "Sync time with the NTP server", the camera will communicate with the NTP server.
The latest firmware for FI9831P V2 and FI9821W 2.1 is 2.x.2.18
You can download the firmware via the website
http://www.foscam.com/download-center/f ... loads.html
According to the working principle, right now sorry that it's not able to disable the P2P feature from sending the UDP message.
As the UDP message(network heartbeat packet) do not include any data and video feed of the camera, please do not worry about it.
Also we have forwarded to our R&D team to find a resolution to disable it.
Sorry for all the inconvenience caused to you.
AND THIS IS MY REPLY:
David,
This is the first feedback on this issue that makes since since I do not use DDNS, FTP, or sync my time to a NTP server. I suspected the P2P UDP messages could not be turned off by disabling the P2P option in the camera. Hopefully, the R&D will provide a firmware fix so the customer can stop the unnecessary P2P UDP messaging.
When you have several cameras like I have sending out several UDP messages on a regular basis it competes with our normal use of our Internet outgoing messaging. Until Foscam R&D fixes this issue I won't add anymore cameras that will just load more UDP messaging to my network. I hope you have informed them of the importance for them to fix this issue as it could have an impact on their sales.
Thanks again for your support
Jim Freeman
Last edited by
jimfreex
on Sun Feb 14, 2016 5:11 pm, edited 1 time in total.
Posts: 7
Joined: Sun Dec 01, 2013 9:54 am
---
Jim:

I turned off the DDNS, FTP, email alarms, and P2P features too. I left the NTP server option on because that was not causing any problems. I too have not bought any more Foscam's as these outgoing requests cause my router to display virus warning and excessive RAM usage messages as soon as I turn off my jerry-rig solution, port filtering. Within a minute my NAT table is filled with open sessions to WAN addresses which Tech support says is OK. I even contacted my ISP, CTL, to see if they had a router with more RAM but no luck - I have their best router. BI is worthless too for remote monitoring with the port filtering enabled. I have tried other ways to get around it with no success.

I wish Foscam sold a stripped down camera without so many features which are not needed for use with Blue Iris software. All of my remote access is done via BI Android AP which accesses BI running on a PC.

Anyway - I hope they get this fixed in a forthcoming software update. I need more cameras but have held off on the purchase for now.

Regards.
Posts: 44
Joined: Tue Dec 08, 2015 9:55 am
---
Agreed.....No more Foscam purchases for me either. I too am doing the port filtering and as a result mem/cpu usage goes high! An occasional call to a time server is ok but other unsolicited calls that my router tables are showing is not needed in my case. Firmware update? Maybe, but not likely!
Posts: 225
Joined: Tue Jan 08, 2013 11:22 pm
---
I will also be holding off on purchasing any additional Foscam products. Knowing what I know now, I am very glad I only purchased one Foscam to start with. Even after doing extensive research on Foscam products and user experiences, this specific issue (and others I've stumbled upon here in the forums) never came up. In this case, my due diligence was clearly lacking.
concerneduser
---
I have a FI9826P V2. I discovered that this camera also connects to several Internet ip's. I created a alias with all my local ip's who are allowed to connect to the camera and all the rest is not allowed. In no time there are 150.000 hits recorded I the log of this block rule. Unreal :S
I was planning to buy another FI9826P but because of this i'm going to AXIS cameras instead.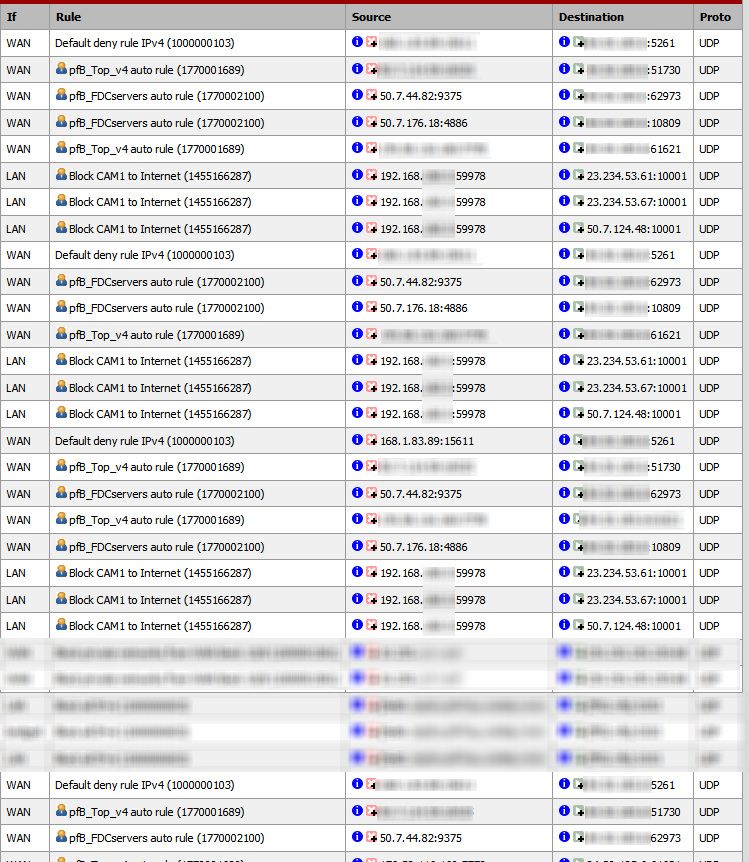 Posts: 4
Joined: Thu Feb 11, 2016 5:00 pm
---
---
Who is online
Users browsing this forum: No registered users and 9 guests